BIM FOR MEP (MECHANICAL, ELECTRICAL, AND PLUMBING)
Detail, fabricate, and install complex buildings systems, work more effectively, and win new business.
Autodesk BIM software offers integrated tools to help you design, detail, estimate, fabricate, and install MEP (mechanical, electrical, and plumbing) building systems more quickly and accurately. Improve collaboration, streamline projects, and reduce risk and waste across the entire project team.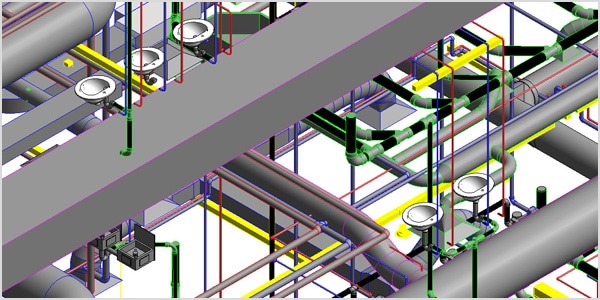 The benefits of BIM for MEP
Improve design quality
Rapidly evaluate alternatives, optimise system designs, and reduce and resolve clashes with intelligent modeling tools.
Increase productivity
Use integrated modeling and detailing tools to produce coordinated designs faster and deliver projects more quickly.
Enhance collaboration
Optimise your project workflows across teams with collaboration tools that let you create and share models and exchange project data.
Extend design to fabrication
Use manufacturer-specific content to help generate better estimates, create more accurate detailed models, and directly drive MEP fabrication.